Parade Registration
The Pride Parade will take place on Sunday, August 13, 2023 at 1:00 p.m. on René-Levesque Boulevard, from Metcalfe Street to Alexandre-DeSève Street (by the way, the parade will take place this year, I promise!).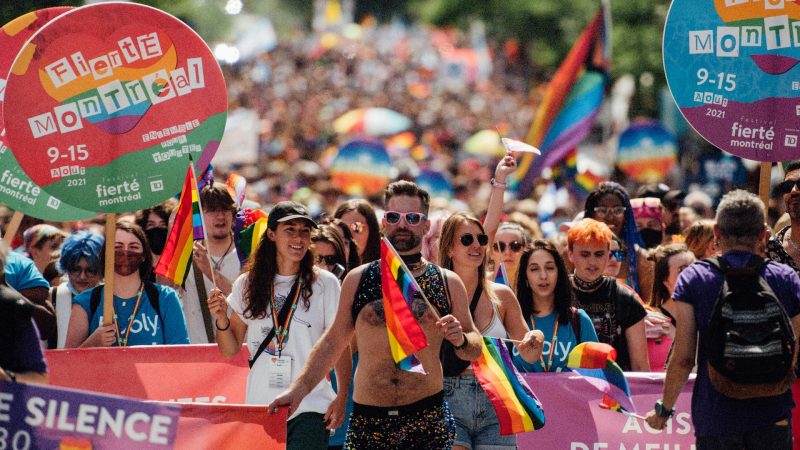 À propos du festival → édition 2023
Événement phare du festival, le Défilé de la Fierté c'est l'occasion de célébrer les avancées des droits des communautés 2SLGBTQIA+ et mettre en lumière nos revendications. L'annulation du Défilé de la Fierté de l'édition 2022 a ébranlé nos communautés; nous mettons tout en place pour assurer le succès du Défilé de la Fierté 2023.
Organismes et groupes communautaires 2SLGBTQIA+, clubs sportifs ou socioculturels, associations, partenaires privés et publics, votre participation à cette célébration et manifestation pour la reconnaissance pleine des droits des personnes de la diversité sexuelle et de genre est plus important que jamais.
À noter que nous continuons à poser des gestes majeurs pour réduire l'empreinte écologique de nos événements, raison pour laquelle les véhicules acceptés lors du Défilé de la Fierté devront être électriques, hybrides, bio-diesel ou au propane.
3. Remplir le formulaire de la bonne catégorie d'inscription.
Category 1: 2SLGBTQIA+ Organizations and Community Groups

2SLGBTQIA+ organizations and community groups operating with a logic by and for communities.
Organizations and community groups that are not specifically 2SLGBTQIA+, but reach out to under-represented communities and have a program targeting 2SLGBTQIA+ communities and operating with a logic by and for communities.
Organizations and community groups outside of Montreal that are not specifically 2SLGBTQIA+, but have a program targeting 2SLGBTQIA+ communities and operating with a logic by and for communities.
Organizations and community groups whose mission or actions are directly related to one or more of Fierté Montréal's political demands. 

Category 2 : Political parties, public and governmental organizations and non 2SLGBTQIA+ associations

Political parties
Public and governmental organizations
Non 2SLGBTQIA+ associations

Category 3 : Union associations and professional orders

Union associations including their 2SLGBTQIA+ offices and committeesProfessional orders including their 2SLGBTQIA+ offices and committees

Category 4 : Private companies and non-2SLGBTQIA+ foundations

Private companies, including their 2SLGBTQIA+ offices and committees
Non-2SLGBTQIA+ foundations