Pride Parade
Join thousands of marchers to celebrate the progress of 2SLGBTQIA+ communities and to highlight their demands.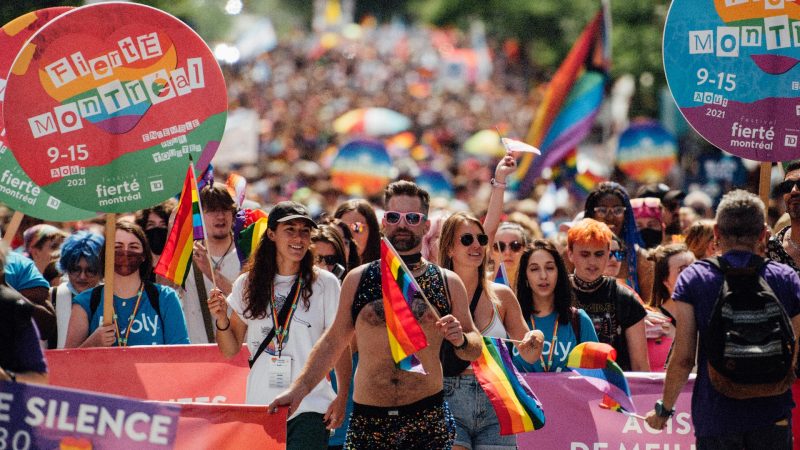 The Pride Parade is back in full force this year!
Community organizations, sports and socio-cultural clubs, associations, unions, businesses and political organizations join their voices to celebrate and make visible the realities of the 2SLGBTQIA+ communities in a festive and colorful atmosphere.
Public participation will be allowed and even encouraged at the end of the quotas. Come march or attend the parade to support the 2SLGBTQIA+ communities!

Practical Information
The 2.9 km long route will symbolically start from the former 2SLGBTQIA+ sector in the West and end in the heart of the current Village in the East.

MOMENT OF SILENCE The moment of silence is scheduled for 2:30 p.m. We ask that you stop all music and noise at this time. This moment is dedicated to remembering the lives we lost far too soon to AIDS, lesbophobia, homophobia, biphobia and transphobia. We also take this time to commemorate the lives of missing or murdered Indigenous women, girls, children, and Two-Spirit or LGBTQIA+ people. May this moment of reflection inspire us and guide us for the rest of our actions.

Two sites will be reserved for people with reduced mobility to ensure a clear view of the Pride Parade: On the North side of René-Lévesque Blvd., at the Miville-Couture Park, between Wolfe St. and Atateken St. On the North side of René-Lévesque Blvd., at the Place Ville-Marie landing stage, between Robert-Bourassa Blvd. and Place Ville-Marie. We encourage you to use public transportation to come to see the parade and to continue later the party at the Olympic Park's Esplanade (Pie-IX metro station) for the Mega T-Dance and the Closing Show.
Route map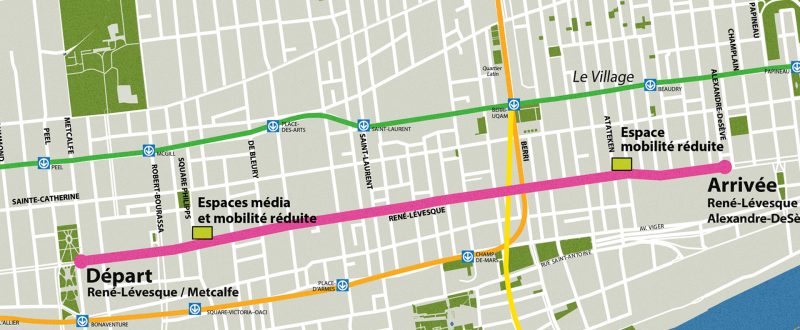 We amplify the voices of the 2SLGBTQIA+ communities.