Visitor Info
Find all the essential information and some bonus tips to celebrate your Pride!
Frequently Asked Questions (FAQs)
When is the Festival fierté Montréal?

The Festival Fierté Montréal will take place from August 3 to 13. The shows at the main site, the Olympic Park's Esplanade, start on Wednesday, August 9th, and continue every day until Sunday, August 13th with the T-Dance and the Closing Show. The Pride Parade will take place on August 13, 2023.

Most of the shows will take place in the main venue: the Olympic Park's Esplanade.

However, there will be some shows happening in other spaces. Consult our flyer with our official programmming or our website to know everything about all the events.

Do I need to buy tickets to attend the shows?

The shows that will take place on the main site, the Olympic Park'S Esplanade, are all free! However, there are a few ticketed events taking place outside the main site during the festival. Get your tickets here.

Will there be bars and food available?

Yes, the main site in the Olympic Park's Esplanade has a gourmet zone with plenty of food trucks. Several bars are at your disposal as well, including the Bistro SAQ.

Cash is not accepted on the main site. You can only pay by card or contactless with your cell phone.

We strongly encourage you to prioritize public transportation. It's quick and easy!

Metro: The Olympic Park's Esplanade, the main site of the Festival, is accessible through the Pie-IX station (green line). From the Berri-UQAM, Beaudry or Papineau stations, in the Village, you can take the metro directly to the Olympic Park -it takes 10 minutes!

Bus: These bus lines have stops nearby: 97, 139, and 439. Remember to buy your tickets in advance. Visit the STM website for more information.

Bicycle: Bicycle access via the bike paths on Rachel Street, Maisonneuve Park, Bennett Street, and de la Salle Street. Bike racks (unattended) are available a few meters from the entrance (4545 Pierre-de-Coubertin Avenue), as well as in the P2 parking lot. An attended space in the 600 sector of the Esplanade, at the corner of Sherbrooke and Pie-IX, will also be available.

Car: Underground paid parking P4, located at 4200 Sherbrooke Street. Access will be different on August 11, 12 and 13, with parking accessible only via entrance P4. What's more, on these three dates, there will be no on-site sales: people will need to purchase their parking ticket online.


Yes! Everyone is welcome!

To ensure the safety of event participants and to comply with regulations governing large-scale gatherings, Fierté Montréal has put in place a series of rules to be followed. Thank you in advance for your participation!

When you arrive, our reception and security staff will ask you to show the contents of your bags for verification purposes. There will also be metal detectors. 
Sales and solicitation are strictly forbidden on Pride Montreal sites. 
Respect the experiences, opinions and beliefs of others (unless they are racist, sexist, transphobic, ableist, etc.). 
Respects the physical and emotional limits of others. Touch others only when consent has been given initially and is maintained.
Before taking a photo of someone, ask permission.
No offensive, degrading, threatening, aggressive or silencing comments or gestures will be tolerated, whether related to gender identity or expression, nationality, ethnic origin, sexual orientation, gender, disability, religion, size, age or language.
Fierté Montréal reserves the right to intervene with anyone who fails to comply with these instructions, or who is detrimental to the participants' sense of security.
Be careful not to assume anyone's gender: ask for the pronouns used by the people you meet.
Fierté Montréal and its partners are organizing awareness-raising activities and distributing safer-sex material. Don't hesitate to get informed!
In case of physical discomfort, first-aid teams are at your disposal. Teams of counsellors are also on hand to provide psychosocial support and help with consumption.

Is the main site accessible to people with reduced mobility?

Yes, two spaces for people with limited mobility will be available on the Blvd. Réné-Lévesque: in front of the Miville-Couture Park (between the streets Wolfe and Atateken), and at the North-Est corner of Phillips Square St.

Cab: the drop-off point for adapted cabs at the Olympic Park will be at P5, 3200 Viau.

Note: If the street is closed by the SPVM, you are still authorized to enter P5 with your adapted vehicle.




What can I bring with me to the site?

Your empty water bottle to fill it at one of our watering holes
Your camera
Backpacks and handbags are allowed but will be searched at the entrance
Sunscreen
Small umbrella
Bike helmet
Strollers, walkers and wheelchairs

What is prohibited on the site?

Alcoholic beverages
Liquid beverages
Coolers
Glass containers 
Musical instruments, speakers 
Illegal drugs 
Animals (except duly identified and accredited service dogs) 
Firearms, knives, weapons of any kind, corkscrews, selfie sticks, utensils 
Laser, water games, fireworks
Folding chairs (except for pregnant or disabled persons) 
Bicycles, longboards, scooters, skates, skateboards 
War headgear 
Umbrellas and other structures likely to obstruct spectators' view and/or endanger their safety 
Any object that could endanger the safety of participants

Can I bring and consume cannabis on site?

According to the current law, it is allowed to bring cannabis, but it is forbidden to smoke on the site (both cannabis and tobacco).

What are the security measures?

When you arrive at the main site, our reception and security staff will ask you to show the contents of your bags for verification purposes and there will be metal detection doors.

Also, all sales and solicitations are strictly forbidden on the Festival Fierté Montréal's sites.

Any person present on the site, acting in an inappropriate or dangerous manner, will be expelled from the site on the spot.

We count on your collaboration to make your visit a pleasant and safe experience for all.

What happens in case of rain?

The Festival Fierté Montréal shows on the main site (the Olympic Park's Esplanade) will take place rain or shine. In case of extremely bad weather, the event may be interrupted or canceled. Be sure to follow us on social networks for the latest news.

What do I do if I lose something on the site?

Email us at info@fiertemontreal.com the day after the event to find out if your item was found. Please note that after 15 days, unclaimed items will be donated to charity.

Check out our "Accommodation" section further down. 

Map of the site
Key locations, identify just for you!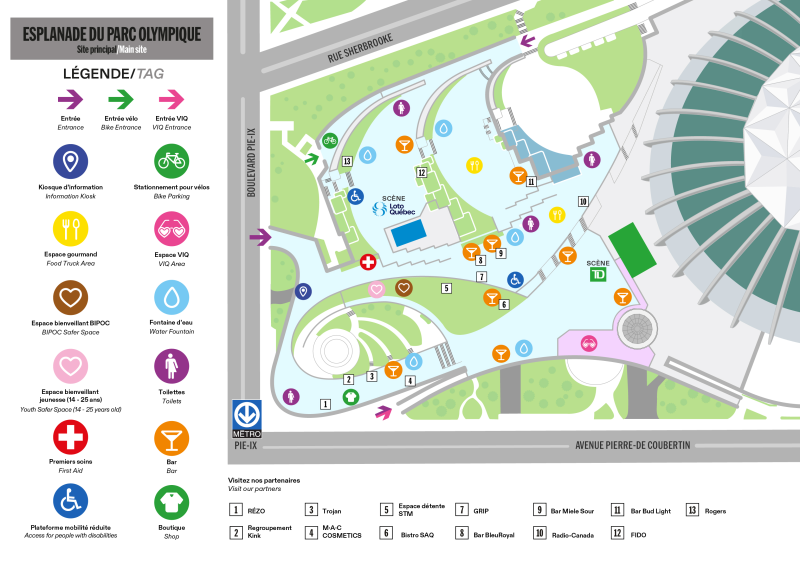 Tips from experience
Because an outdoor festival is best celebrated well prepared.
Here are some tips to celebrate your Pride!
Cards!

NO CASH ACCEPTED on the main site, the Olympic Park's Esplanade.

Consent!

There will be lot of uncovered bodies, and that is not an invitation to touch! Always ask for CONSENT. IT IS ESSENTIAL!

Be respectful!

The 2SLGBTQIA+ communities are diverse, and Pride is a place for ALL OF US to celebrate.

Think ahead!

Purchase your STM round-trip TRANSPORTATION TICKET before arriving at the activities. Everything will be smoother at the end of the night.

Stay hydrated!

Bring your REUSABLE BOTTLE, we have water fountains in the Olympic Park's Esplanade.

Be generous!

Our festival is FREE! Thank you so much in advance for supporting us by giving donations via our tiptap stations.

Early bird!

For everyone's security, there will be checkpoints at the entrance of the Olympic Park's Esplanade. If you don't want to wait in line, arrive early, and you'll get the chance to enjoy the Food Zone and all its food trucks!

It's summertime!

Check the WEATHER! Wear sunscreen, sunglasses, and a hat. If it's raining, bring your raincoat or a small umbrella.

Enjoy!

This is OUR celebration. Be PROUD and HAVE FUN!
Community intervention resources
The Festival Fierté Montréal is committed to providing visitors with an experience where all feel safe, respected and heard. That's why we are working with various community organizations to provide a series of resources to make our festival safer and more inclusive.


Accommodation
Visiting Montréal for Pride? Find the perfect accommodation during your stay.
What to do in Montréal
Looking for information on what to do this summer in Montréal and elsewhere in Québec?
Here's a diverse selection of tourist guides that will offer you activities, excursions, cultural visits, and outings that are sure to enrich your stay with great experiences.
Transport
Get to the Festival Fierté Montréal site by public transportation or your car.
Travelling by public transit[AB1]

Our sites are well served by the public transit systems of the Société de transport de Montréal (STM).

Our sites and events

The Esplanade du Parc Olympique, the main Festival site, is accessible by metro and bus:

Metro, via Pie-IX station on the green line.
Bus, via the following routes: 97, 125, 136, 185 and 439 (SRB Pie-IX) have stops nearby.

The Village, in the heart of which the Community Days will be held, is accessible by metro via the following stations:

Berri-UQAM (green, yellow and orange lines)
Beaudry and Papineau (green line)

The Pride Parade route is on René-Lévesque Boulevard, and is easily accessible by metro via the following stations:

Lucien-L'Allier and Bonaventure (orange line)
Guy-Concordia, Peel, McGill and Place des-Arts (green line)

See their website for current rates.

[AB1]Remplacement de "Voyager par métro" - car on parle de bus également

Discover a country of differences. Travelling across Canada on a VIA Rail train, between major urban centers or in the regions, is to enjoy a peaceful and comfortable journey with impeccable service and an unbeatable view. Discover the diversity and openness of our beautiful country.

The Central Station is located at 895 de la Gauchetière West, in downtown Montreal. It is served by the Bonaventure and McGill metro stations. VIA Rail trains serve all of Canada.

*Direct trains to New York City also leave from the Central Station (Amtrak).

Visit their website to learn more about rates, schedules and stations.


Travelers can also take advantage of the Canadian highway system to get to Montréal. 

Montréal is only a five-hour drive from Toronto or Boston and seven hours from New York. Montréal is only 47 km (29 mi) from the New York border. The New York State Thruway (I-87) becomes Interstate 15; I-89 becomes Route 133 (two lanes at the border) and then joins Interstate 10 which leads to Montréal. From I-91 in Massachusetts, Highways 55 and 10 lead to Montréal.

Visitors from Western and Eastern Canada can reach Montréal via Highways 20 and 40. 

In Québec, speed limits are expressed in kilometers (100 km/h is approximately 62 mph). Gasoline is sold by the liter (3 3/4 liters is equivalent to one US gallon).


If you need additional information to get to Montréal by car, refer to the Transports Quebec website and select the Montréal region from the drop-down menu. You will be able then to enlarge the map and search for the different roads serving the city.

The Montréal-Pierre Elliott Trudeau International Airport is located 18 kilometers from downtown Montréal.

You can take the Express Bus 747. It runs 24 hours a day, 365 days a year between the Montréal Bus Station (Berri-UQAM metro station) and Montréal-Trudeau Airport on a route with nine stops per direction. 

The 747 buses are equipped with luggage racks for passengers. Travel time is 45 to 60 minutes -depending on traffic. WI-FI service is available on most buses.

The fare is $11, payable upon boarding the bus in coins only, for the exact amount (no paper bills).

The following fares are also accepted on the 747 at no additional cost:
Programming
Programming
Programming
Come celebrate the advances in the rights of 2SLGBTQIA+ communities by marching in the Pride Parade!