Theatre
N'essuie jamais de larmes sans gants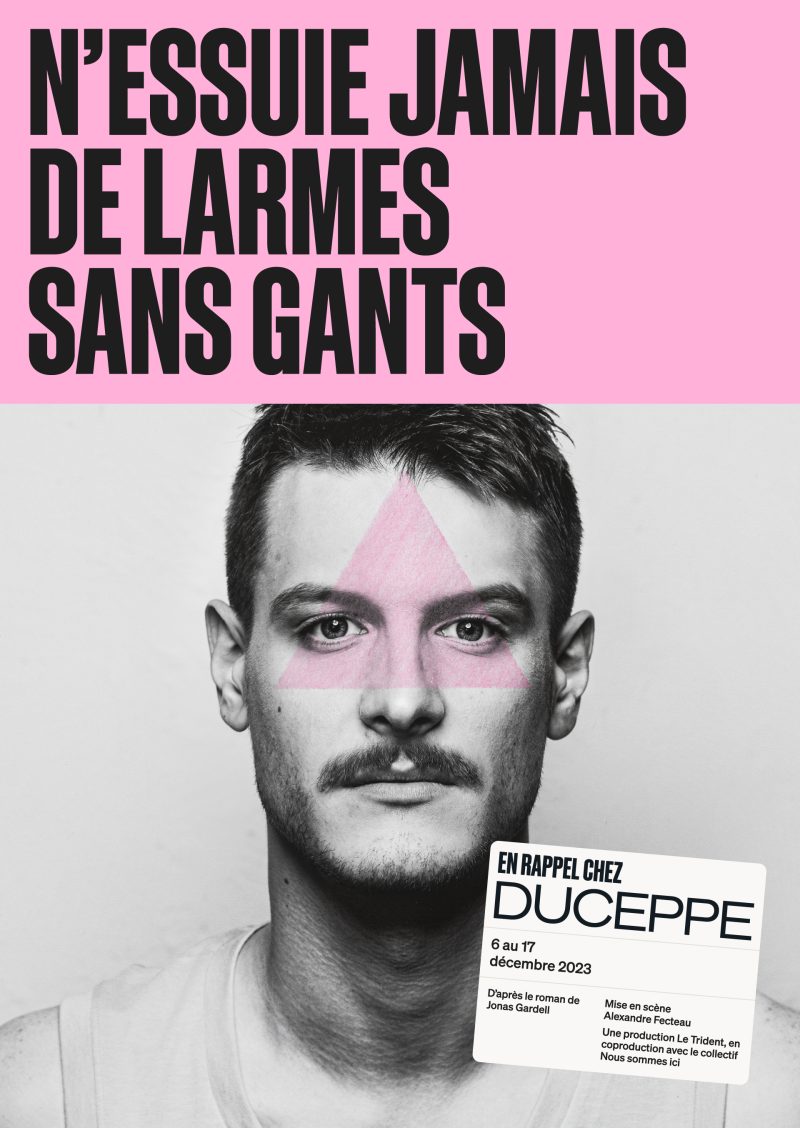 Rasmus flees his village and suffocating family home to leap headlong into his new life in Stockholm, where he hopes to finally be able to be himself. Benjamin is torn between the path laid out for him as a Jehovah's Witness and his simple desire to love someone who will love him back. Paul, mother hen to lost gay men, brings them together by happenstance one Christmas night. They leave hand in hand, not knowing that their passionate liaison will bring them to the edge of the abyss. That one of them will be felled by the scythe of a grim reaper as yet unknown: AIDS.

Based on the novel by Jonas Gardell
Translation: Jean-Baptiste Coursaud and Lena Grumbach
Adaptation for the stage: Véronique Côté
Directed by Alexandre Fecteau
Musical direction: Anne-Marie Bernard
A production of Le Trident in coproduction with the collective Nous sommes ici

Performers: Olivier Arteau, Maxime Beauregard-Martin, Gabriel Cloutier Tremblay, Véronique Côté, Hugues Frenette, Érika Gagnon, Jonathan Gagnon, Israël Gamache, Samuel La Rochelle, Maxime Robin, Carla Mezquita Honhon, Laurent Fecteau-Nadeau, Anne-Marie Bernard (piano), Marie-Loup Cottinet (cello), Jean-François Gagné (violin), Karina Laliberté (viola)

---

We are proud to collaborate with Théâtre Duceppe to present the exhibition "The aesthetic activism of ACT UP MONTRÉAL: a story in photos and posters" produced by the Archives gaies du Québec with the support of Fierté Montreal.

On the Expo
ACT UP Montreal had a brief but very active existence, with many protests and performances against government inaction on the HIV/AIDS crisis. The Archives gaies du Québec holds over 2000 photographs taken by René LeBoeuf during the activities of ACT UP Montreal, as well as materials used during the protests such as signs and banners. A selection from this collection will be featured in the exhibition.
Location
Théâtre Duceppe Accessible to people with reduced mobility.
Accessible to people with reduced mobility.
Warning: This play is intended for an informed audience aged 16 and older. It contains scenes of nudity and sexuality and addresses sensitive themes that may not be suitable for everyone. Please note that stroboscopic effects are used on stage.