Order an Angelot is a protocol aiming to prevent sexual harassment and sexual violence in bars and festive or social events. It allows anyone who fears for their safety to ask for help without having to justify themselves.
In 2022, Fierté Montréal Festival was proud to be the first festival to be accredited Order an Angelot in the province thanks to the financial support of the Gouvernement du Québec.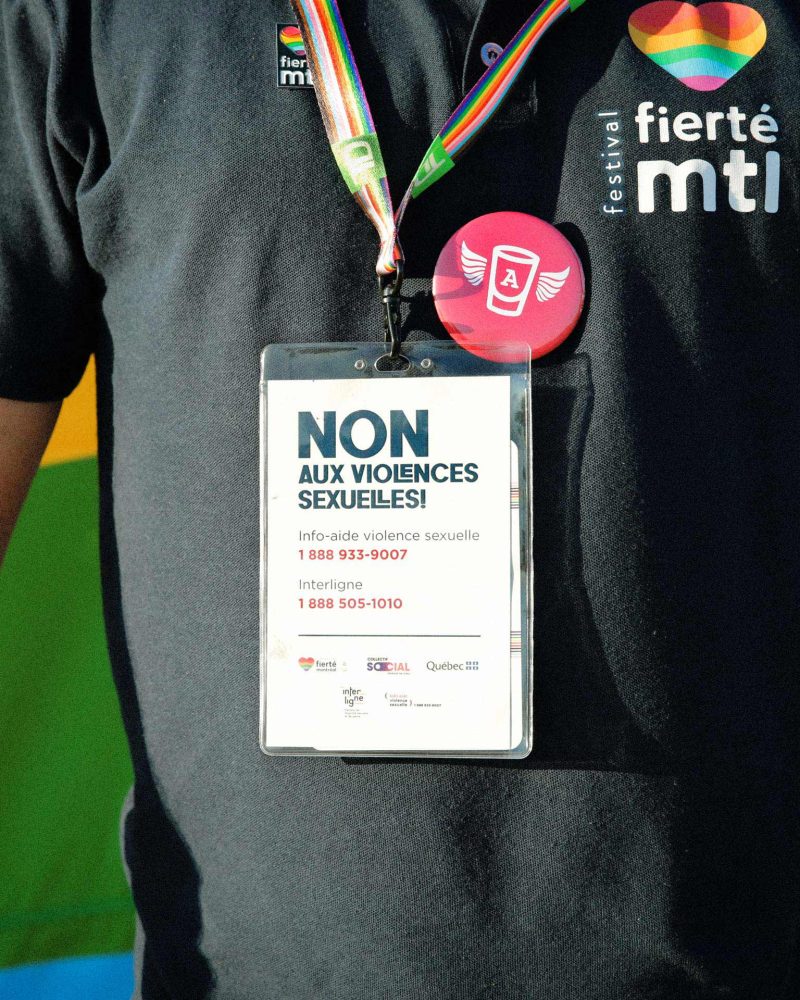 How does it work?
It's quite simple: if you feel unsafe, if you are worried about the safety of someone else, or if you witnessed an incident, you can approach any staff member wearing the "Order an Angelot" button. At the bars of the main site, you can order the fictitious cocktail "Angelot." Fierté Montréal employees and volunteers are trained to help you in such a situation. 
No questions about the situation will be asked and no justification will be required.
If you wish so, you can contact these helplines:
Sexual Violence Helpline
1-888-933-9007
Interligne
1-888-505-1010
The goals
Fierté Montréal has the certification Order an Angelot because we look to ensure adequate protection of those who feel unsafe and to prevent sexual violence in the Festival sites.
Why "Angelot"?
The name Angelot -little angel- is used as resonance to the protection it brings to the person in need when the order this fictitious cocktail. It can be understood both in English and French. Order an Angelot, inspired by campaigns already in place around the world -like Angel Shots in the United States and Ask for Angela in the United Kingdom, provide training to accredited bars and festivals.