The Fierté Montréal Festival is back, unveiling a brand-new genderful identity. Creative agency Deux Huit Huit offers insights into how the community's vocal discontent with the handling of the 2022 Pride Parade, the organisation's new mission and strategic directions, and the community's feedback inspired the organisation's plural and flamboyant signature.
1. Take an introspective dive
Understanding requires more than listening. Listening takes place when you grasp the idea the other person wishes to communicate. It's a good start. But the magic happens when you understand and acknowledge the unspoken feelings behind the words.
In the summer of 2022, folks were disappointed with Fierté Montréal. The city's much awaited annual pride parade had been cancelled. The ritualistic event brings diverse 2SLGBTQIA+ communities together to celebrate the achievements and to give visibility to the demands of the Quebecois sexual and gender diversity ecosystem, and its cancellation was an arrow to the heart. The backlash communicated disappointment and frustration. But it also revealed a fundamental truth about the communities — that no one, not even the organisation that wears its name, could take away their pride.
"Fierté Montréal had already initiated a collaboration with Habo, an external planning consultant, to build a strategic plan that would better reflect the organisation's ambitions. We had identified the need to update our visual identity and launch a profound redesign of our website. The cancellation of the parade and the introspective work it prompted simply pushed us to move faster," marks Simon Gamache, Executive Director of Fierté Montréal.
Fierté Montréal knew they had to shift their narrative. Communities are people who keep coming together to share something they care about. They feel magical, but they don't come together by magic. They need a space and an occasion. The community was asking for a platform that amplified their voice, an ally to ensure the representation and inclusion of all, the recognition of their rights in society, and their right to proud festivity. They had spoken. We listened to understand better.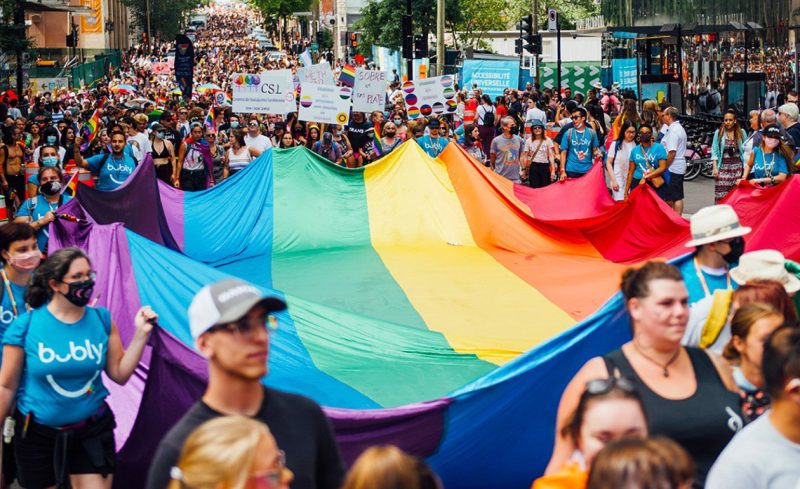 2. Choose the right partners for the journey
After framing the vision of a brand repositioning, it's time to find the people who will help you achieve it. Teaming up with an agency is like getting married after two dates. Véronique Cassidy, Project Manager at Deux Huit Huit shares three key questions every client should ask themselves to identify the perfect match:
Does the agency have experience in your space and category?
Does their work spark inspiration that pushes your vision even further?
Do their people feel like your people? Are your values shared?
For Fierté Montréal, Deux Huit Huit double-ticked all three boxes and better met the criteria established in the call for submissions. They had a proven track record working with both non-profits (the likes of Équiterre, One Drop, and the Montreal Museum of Fine Arts Foundation) and organisations in the cultural, artistic event scene (think PHI, Piknic Électronik, and Pop Montreal).
Known for their signature of emotionally-charged digital-friendly work, the studio's portfolio is also as colourful as it gets. Fierté Montréal could clearly envision the potential of their new image through the lens of these creatives. But what sealed the deal was the human fit between the two teams. Both valued design filled with optimistic joy and collaboration anchored in transparent communication.
"We are delighted to have been entrusted with this mission and opportunity to collaborate with Fierté Montréal's team, an organisation whose mission holds a special place in our hearts," states Gabrielle Normand-Viau, General Director and associate of Deux Huit Huit.
3. Go beyond the logo. Think of the brand as a singular world.
When you read Neverland, Land of Oz, or Narnia, your mind is instantly transported to that world. You envision its unique colours, renowned landmarks, and iconic characters. "Crafting a brand world is not that different from imagining the stage of our favourite tales," shares Frankie Latour, Brand Strategist of Deux Huit Huit.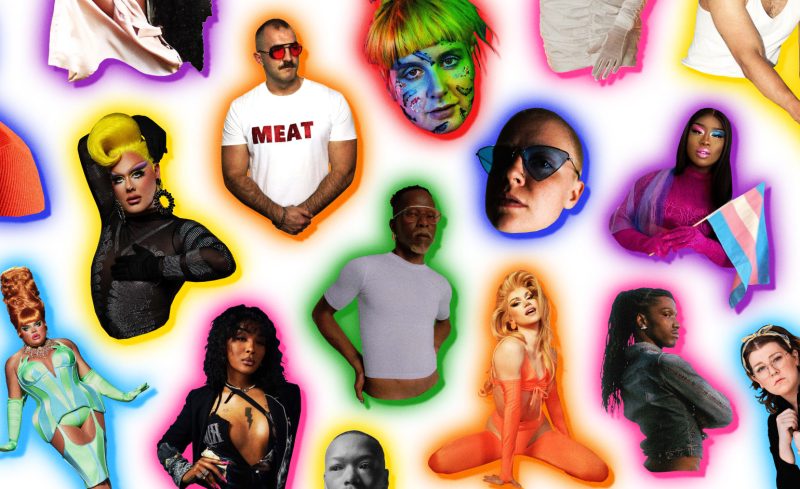 Fierté Montréal's world was imagined as a haven of pride. A common place to celebrate and advocate. Where we watch over one another to form the strongest of alliances. A space where struggles find meaning and lead us to our true colours, sometimes shared by others. We believe that a true safe haven of pride expression provides the potential for anyone to be their most genuine, fulfilled, empowered, and beautiful selves — to dance, love, chant, and dazzle. And we embodied this core belief within the Fierté Montréal brand.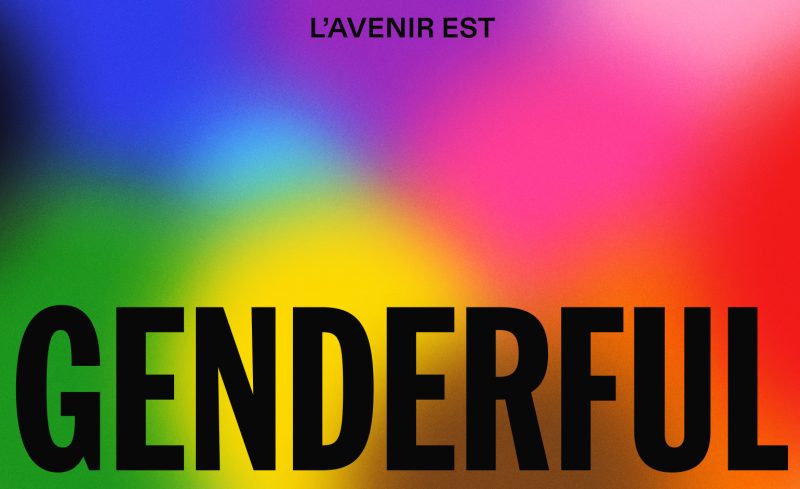 Fierté Montréal is anything but genderless; it proudly embraces its genderful nature. An analysis of different Pride events from around the world highlighted the importance of colours in understanding a brand that advocates for and celebrates the rights of 2SLGBTQIA+ communities. The deconstruction of the unilateral rainbow of the former identity, replaced by a rainbow spectrum, allows for a better representation of the ever-evolving multitude and diversity of queer communities. We break free from borders and dividing lines, celebrating a united supporting community that's tightly weaved together.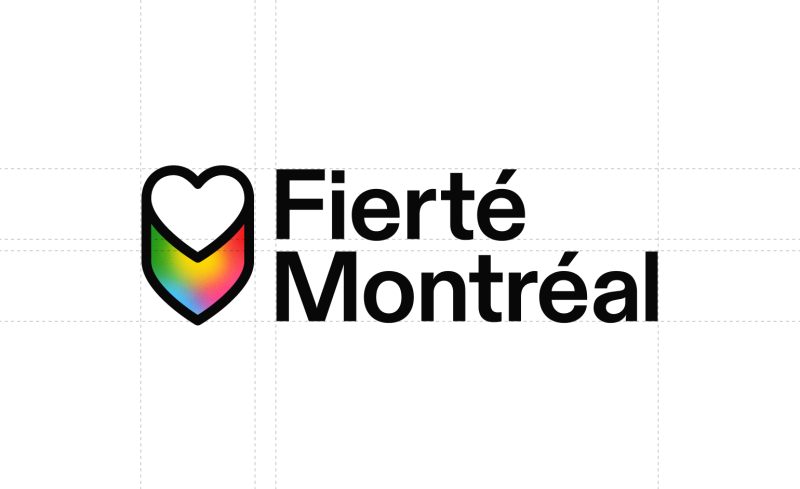 This colourful explosion of queer joy laid the groundwork for the identity platform. Its signature originates in the city's unique graphic language and grassroots codes of early-day street manifestations. "With its bold strokes, the new logo echoes the aesthetic heritage of iconic Montreal institutions deeply rooted in our culture, such as the logo of the city of Montreal, the 1976 Olympics, or the logo of the Montreal Metro," highlights Anne Sylvestre, Creative Director of Deux Huit Huit.
By developing a scalable typographic system, the brand adapts its voice to different messaging tones, from assertive to compassionate, factual to festive. "Drawing inspiration from the vibrant urban advertising graphics that adorn our city's neighbourhoods, the headliners' announcement on the website places the 2SLGBTQIA+ talent and people at the heart of the digital experience," adds Alexia Brideau-Francœur, UI Designer at Deux Huit Huit.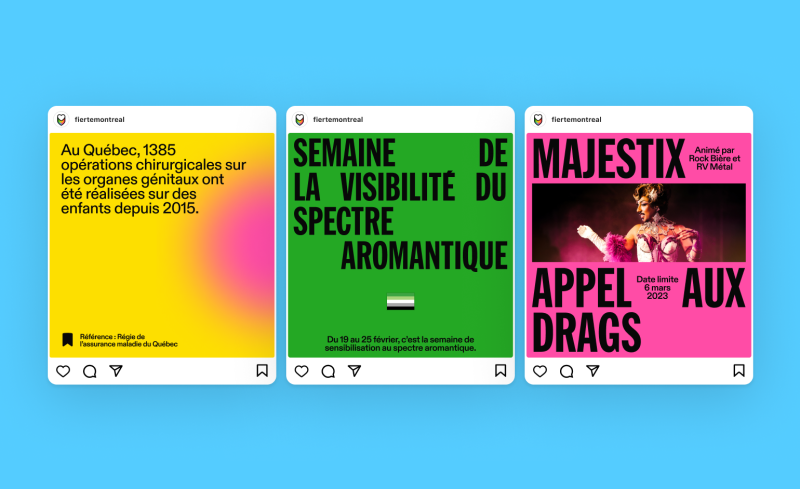 4. Be inspired by hard truths. They hide the most wonderful opportunities.
Ignoring negative feedback from your community will not magically erase the issues they are trying to address. It fuels the fire. Instead, incorporating those truths into your brand's story is an act of empathy and devotion. "When crafting FM's story, it was crucial that the messaging spoke with and not for the 2SLGBTQIA+ communities. Our narrative is there to amplify their voices," Frankie also emphasises.
Inspired by the retaliating "Can't cancel pride," Fierté Montreal's new tagline Never without our pride is a renewed commitment to its communities. It is a nod to last year's events. It is a rallying cry, a heartfelt expression whose meaning transcends the mishaps of the past. Never without our pride because no one can take it away from you, from us. The communities always claim it. Our pride is with us every day. It is a fundamental human right.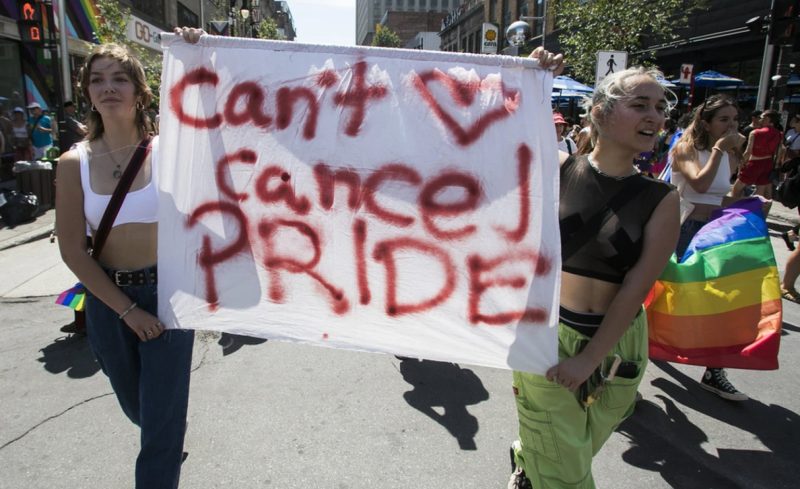 The new Fierté Montréal brand is an open love letter to the local 2SLGBTQIA+ communities and everyone who wishes to join in the ongoing fight and continual celebratory moments along the way. Executive Director Simon Gamache sums it up best: "The new brand is a tribute to our past but most importantly a beacon of hope and aspiration for what's next. And we can't wait to be next to you, chanting in the crowd when it comes."
Discover the complete case study on Deux Huit Huit's website.
Written by Deux Huit Huit
Deux Huit Huit is a Montreal design office that creates brands and websites with superdigital signatures and easy-to-love character. Born on the Web 12 years ago, the company is fluent in all things digital. Composed of wholehearted people, their team is passionate about bringing emotional value to any business. They create emotionally-charged verbal and visual identities by building immersive worlds rooted in expressive love.